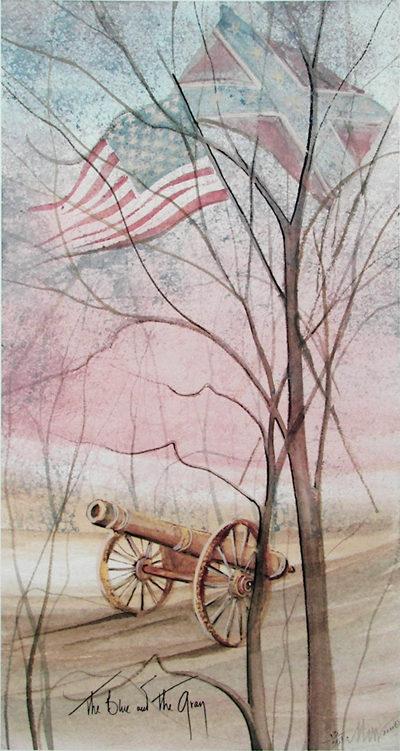 For the past 32 years, World renowned artist P. Buckley Moss has stood firm in her commitment to PBS, and WVPT. For more than three decades, P. Buckley Moss has created and donated an exclusive watercolor print to WVPT. Each year prints of the original are made and sold exclusively through WVPT, with all proceeds going towards our continuing mission to bring you the best in educational, quality programming as well as invaluable community services.

The 2012 exclusive WVPT Moss print, "The Blue and the Gray" pays homage to The Sesquicentennial anniversary of the Civil War. It also pays tribute to the Shenandoah Valley and the vital role it played during the dark years of the Civil War. WVPT will unveil this year's exclusive print Thursday night, April 12th "on air" during Ken Burn's The Civil War" documentary. WVPT President and General Manager David Mullins is thrilled with this year's print. "WVPT is again so grateful to Pat Moss for her generosity in providing another exclusive, limited edition print for the station. This Civil War themed print should appeal to Pat Moss fans and also Civil War collectors. Funds raised from the sale of these prints will help WVPT continue to bring educational and arts programming to our viewers."
Measurements of the print are 10" x 16.25" Shipping is $10.
$50.00